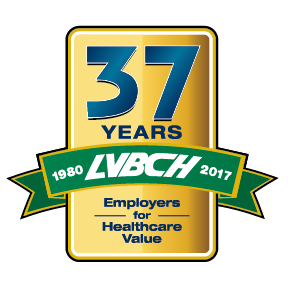 Quick Links
Resources
News Releases
Consumer Reports Choosing Wisely® Campaign

Informed patients make smarter healthcare choices
LVBCH has partnered with Consumer Reports to promote the Choosing Wisely® campaign. The campaign is designed to educate employers and their employees about the dangers and issues associated with the overuse of health care services. The campaign helps employers encourage their employees to get involved in their health care so they can have informed conversations with their physicians.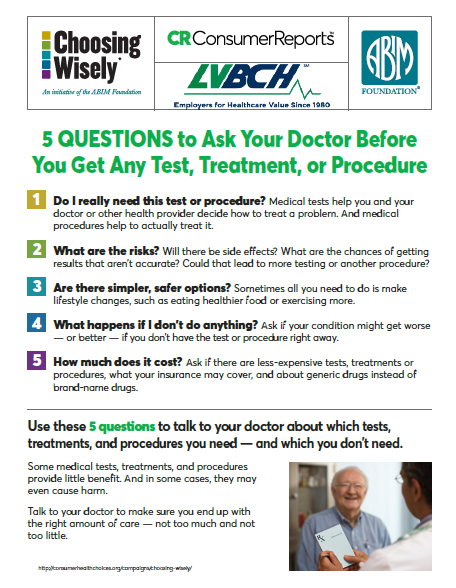 Here is
one
factsheet
that employers are encouraged to send to their employees and their families to help educate them on
"5 Questions to Ask Your Doctor Before You Get Any Test, Treatment, or Procedure"
.
To access more than 100 other guides (including videos) to getting better, safer, more cost-effective care, simply click on the link below:

These reports, in PDF format, are FREE for you to read, download or print for your individual, company and/or family use. Most reports also are available in Spanish or plain English versions. Employers have an important role to play in healthcare since 75% of employees use their employer as a primary resource for medical and health information. We encourage you to share this important information with your family, friends, co-workers and colleagues.
Choosing Wisely-Related Videos now available at Ask-Five.com
A new resource for employers and their employees,
Ask-Five.com
is a microsite developed by the Lehigh Valley Physician Hospital Organization (LVPHO) to help patients have more informed conversations with their providers. The topics that will be featured align with health care choices affecting patients and providers in our community that may lead to wasteful spending. Recommendations are based on Choosing Wisely® principles.
The first set of videos covers overuse of antibiotics, featuring Timothy Friel, MD, Chair of the Department of Medicine at Lehigh Valley Health Network. Dr. Friel offers five key questions patients can ask that will help promote an understanding of when antibiotics are an appropriate choice. Having this conversation is part of the worldwide effort to reduce antibiotic overuse and the danger of antibiotic ineffectiveness.
Encourage your employees to Visit
Ask-Five.com
today and look for more topics coming soon!