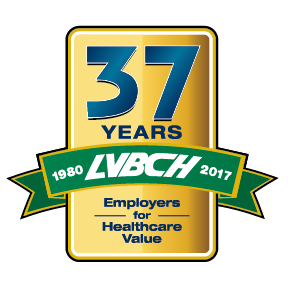 Quick Links
Resources
News Releases

Hospital & Patient Safety

Leapfrog Announces Spring 2017 Hospital Safety Grades - 04/12/17
Bethlehem, PA (April 12, 2017) – The Leapfrog Group, a national nonprofit watchdog, announced today the release of the Spring 2017 Leapfrog Hospital Safety Grades, marking five years since the inception of the Grade in 2012. Strides in patient safety have continually been made over time including a 21 percent decline in hospital acquired conditions, increased adoption and improved functionality of computerized physician order entry systems, and millions of averted patient harms.

In Pennsylvania, 132 hospitals were graded, and 31 (23%) received an "A", the highest letter grade, showcasing a dedication to safe care. Only one PA hospital – St. Clair Hospital located in Pittsburgh -- has received "Straight As" since 2013.

"Since the Leapfrog Hospital Safety Grade launch in 2012, our mission has been to increase awareness of hospital safety concerns among consumers, as well as light a fire under hospitals and community leaders to be champions for change. LVBCH has proven its dedication to improving patient safety through its ongoing work with local hospitals," said Leah Binder, president and CEO of The Leapfrog Group. "We commend every individual who has contributed to ensure patients in Pennsylvania receive safe care."

"We work closely with the hospitals in our area to help them improve patient care, and, in turn, better the lives of our community," said Tom Croyle, President of LVBCH. "As the Grade reaches the five-year milestone, we are proud of the strides made in patient safety, but will continue to plan, advocate and galvanize for patient safety improvements moving forward."
To read the entire news release about the Spring 2017 Hospital Safety Grades and see the complete list of the 31 hospitals in PA that were graded an 'A' in this latest update, click here.
To read an article about the Hospital Safety Grades in LVB, click here.
For hospital ratings in your area, click the image below or visit www.hosptialsafetygrade.org.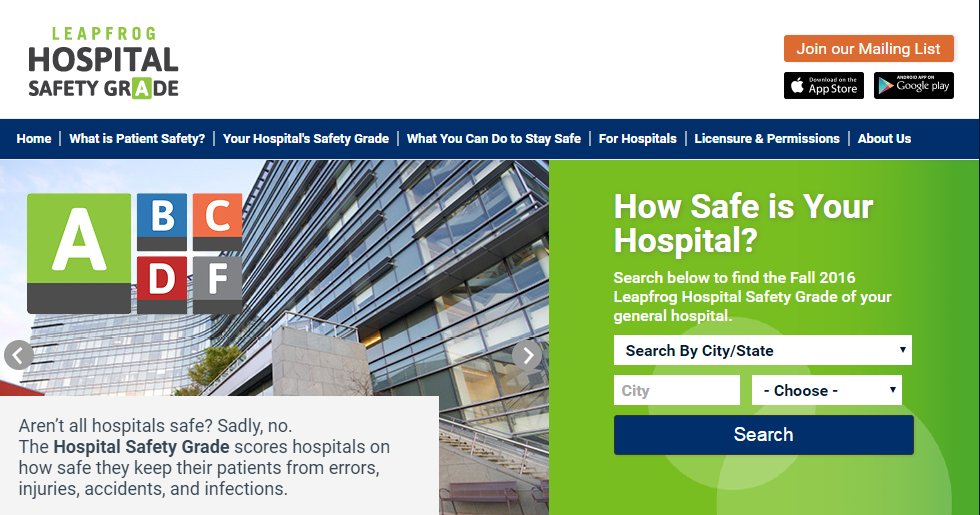 Three PA Hospitals Earn Leapfrog's 2016 Top Hospital Award - 12/06/16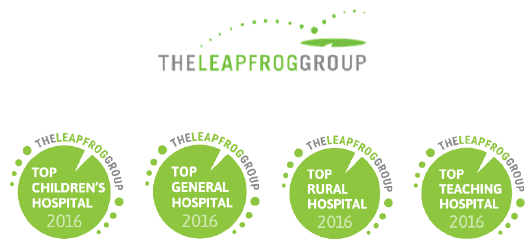 Bethlehem, PA, (December 6, 2016) – Three Pennsylvania hospitals were named to The Leapfrog Group's annual list of Top Hospitals which honors the highest performing hospitals on the Leapfrog Hospital Survey. Doylestown Hospital (Doylestown, PA), Grand View Health (Sellersville, PA), and PinnacleHealth West Shore Hospital (Mechanicsburg, PA) received this coveted award for 2016. Widely acknowledged as one of the most prestigious distinctions any hospital can achieve in the United States, the award recognizes hospitals who are committed to Leapfrog's vision of providing the safest, highest quality health care for consumers and purchasers alike. The winning facilities were officially recognized at Leapfrog's Annual Meeting on December 6, 2016 in Washington, D.C.
To read the entire news release about the 2016 Top Hospital Awards, click here.

To see the full list of institutions honored as a 2016 Top Hospital, please visit www.leapfroggroup.org/tophospitals.

To read a LVB article about 2016 Top Hospital Awards in PA, click here.
2016 Hospital Survey Results Available Online
Choosing a hospital doesn't have to be a daunting task—as long as you have the right tools. The Leapfrog Hospital Survey results can tell you a lot about a hospital, and if it provides safe, high-quality care.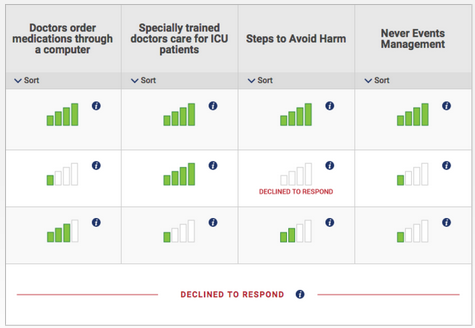 Nearly half of all U.S. hospitals voluntarily provide data to our annual survey, and we put the data at your fingertips. Whether you want to know about a hospital's C-section rate, safety protocols, or how frequently patients have to be readmitted, you'll find it all here. Look for hospitals with four green bars on the issues that matter to you. These hospitals have fully met the most rigorous standards set by our volunteer health care safety and quality experts.

LVBCH and the Leapfrog Group thank the hospitals that have chosen to demonstrate their commitment to transparency and continuous improvement through their participation in the Leapfrog Hospital Survey. Visit www.leapfroggroup.org/compare-hospitals to view survey results for participating hospitals. Results will be updated monthly through the end of 2016.
Reports on Hospital Performance Issued in 2016



To present data on aggregate hospital performance on the Annual Hospital Survey, Leapfrog has partnered with Castlight Health, an industry leader in providing tools to aid consumers in their health care decision-making. In 2016, Leapfrog and Castlight Health have issues five reports on the following topics:
To get more information about reports on hospital performance as well as news releases, click here.