---
For more than three decades, the Lehigh Valley Business Coalition on Healthcare (LVBCH) has been serving the needs of employers by leading the way in the development of affordable, cost-effective employee benefits. It all began in 1980, when a few forward-looking business leaders met to discuss the actions they could take to address the rapidly rising cost of medical care and the impact it was having on their ability to provide their employees with affordable medical benefits.
Working with a select group of partner-vendors, the Coalition developed the first self-funded, employer-designed product called "Community Choice" a Point-of-Service plan that included medical, dental, prescription, vision and behavioral health services. Our current partner-vendors, including Aetna, Capital BlueCross, Cigna, Express Scripts, Integrated Behavioral Health, National Vision Administrators, United Concordia Dental, UnitedHealthcare and Valley Preferred continue to build on the success of those early efforts.
Another exciting Coalition initiative is our developing relationship with the broker community. We recognize that brokers play an important role in assisting employers in selecting medical benefits and providing other services. We're letting brokers know that they as well as their clients benefit when they choose the ASO and insured products offered by our partner-vendors. Through these efforts, the Coalition creates a "win-win-win" situation--a win for our brokers, employers and the Coalition.
While the cost of medical benefits is certainly a major focus of the Coalition, it has not overlooked the importance of quality care. To address this issue, the Coalition established the "Quality Initiatives Committee" that works closely with providers to improve the quality of care by encouraging them to adhere to national performance and reporting standards. From these humble beginnings, came the LVBCH one of the premier medical benefits purchasing alliances in the nation.
---
To be the recognized leader in improving healthcare in the communities where we live and work.
Provide access to high-quality and cost-effective healthcare through collective employer action, purchasing programs, educational resources, networking and partnerships.
---
Encourage and Promote Healthcare Quality Initiatives

Expand Educational Initiatives

Strengthen Purchasing Initiatives

Sustain and Grow Membership in the Organization
---
LVBCH 40th Anniversay Overview
---
LVBCH 40th Anniversary History
---
LVBCH 40th Anniversary Testimonials
---
---
---
LVBCH Celebrates 40 Years in LVB "Milestones"
| | | |
| --- | --- | --- |
| | Celebrating 40 years in Healthcare. LVBCH was featured in the Milestones issue of Lehigh Valley Business Publication. LVBCH renews its pledge to provide access to quality and cost-effective health care programs that benefit organizations and the individuals that comprise them. We're excited about the prospect of what the next 40 years will bring. To read the LVBCH story, click the image. | |
---
LVBCH Featured in LVB "20 in 20"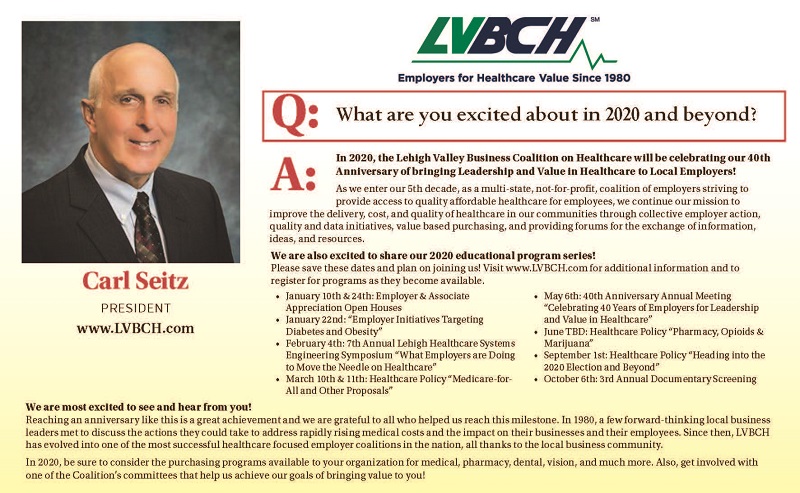 ---
LVBCH 2018 Testimonial Video
---
LVBCH Celebrates 35 Years in LVB "Milestones"
| | | |
| --- | --- | --- |
| | Reaching a company anniversary is a great achievement for any business. We are excited to report that the Lehigh Valley Business Coalition on Healthcare (LVBCH) is celebrating our 35th anniversary in 2015. It all began in 1980, when a few forward-thinking local business leaders met to discuss the actions they could take to address rapidly rising medical costs and the impact on their businesses and their employees. From these humble beginnings, LVBCH has evolved into one of the most successful healthcare focused employer coalitions in the nation. In recognition of our noteworthy anniversary, LVBCH was featured on page 16 of a special publication by Lehigh Valley Business called "Milestones". To read the LVBCH story, click the image to the right. | |
---
LVBCH Featured in LVB Article
On 4/13/15, Lehigh Valley Business (LVB) published an article about LVBCH titled "35 years of saving on health care".

Jennifer interviewed a variety of different people for the article and included quotes from the following LVBCH supporters:
- Tom Croyle, LVBCH President
- Michael Donio, former LVBCH employee and LVBCH historian
- Deborah Faulkinberry, Managing Director, Gross McGinley
- Vicki Doule, Sr. Director, Group Sales, Major Markets, Capital BlueCross
- Tom Palmer, Sr. VP Sales & Service, United Concordia Dental
- Bob Johnston, Benefits Manager, East Penn Manufacturing
- Jack Gross, Partner, Gross McGinley

The article includes a brief history about LVBCH as well as information about our members, purchasing partners what LVBCH is doing today to ensure employers are getting the most value for their health care dollars. LVBCH's association and support of the Leapfrog Group and the National Business Coalition on Health (NBCH) are also highlighted.

To read the article,

click here

.

Article by Jennifer Glose
Staff reporter for LVB
The most widely read
local business publication
in Lehigh Valley.

It included a photo
of LVBCH's current staff
Wendy Manarino
Tom Croyle
Rachel Berger